[Ship From EU] Autel MaxiCOM MK808BT OBD2 Diagnostic Scan Tool with Bluetooth MaxiVCI Upgraded Ver. Of MK808 MX808 Scanner
Autel MaxiCOM MK808BT
Autel MaxiCom MK808BT automotive diagnostic tool , as an advanced version of Autel MX808/MK808, based on Android OS and 7.0 inch touchscreen, has the ability to quickly read and clear DTCs for all available modules of the majority of the makes and models on the market. As a pro-grade automotive diagnostic scanner, MK808BT scan tool also provides you with superior special functions, including Oil Reset, EPB(Electronic Parking Brake), SAS (Steering Angle Sensor), BMS (Battery Management System), ABS Brake Bleed and DPF (Diesel Particulate Filter) Regeneration.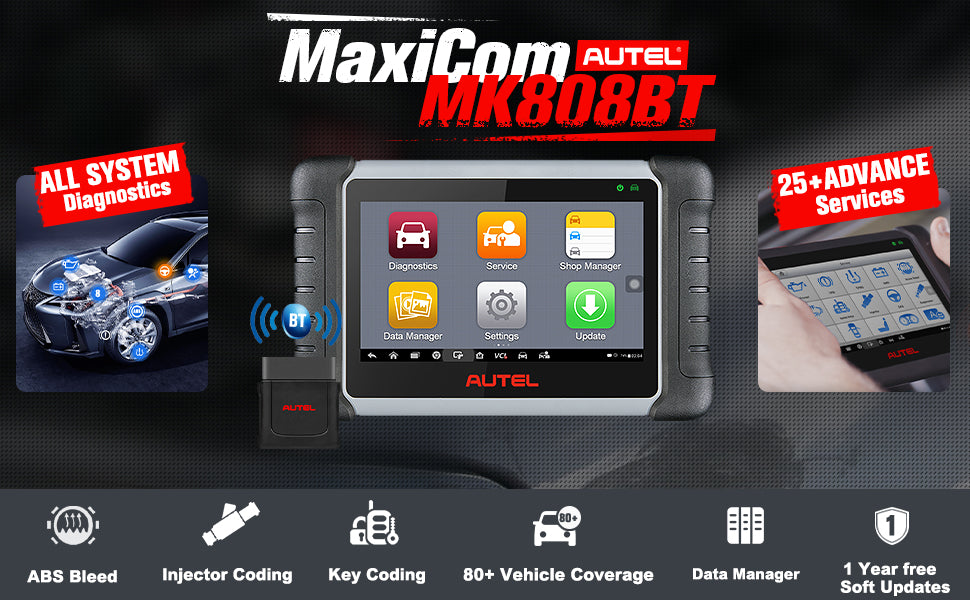 MaxiCOM MK808BT Scanner Features:
Support wireless Bluetooth connection
Extraordinarily powerful Cortex-A9 processor (1.5 GHz) processor
7-inch LCD capacitive touchscreen with 1024 x 600 resolution display
Internal reliable 32GB On-board Memory for better performance
Unique ergonomic design with rubberized outer protection and a rugged internal housing
Android 4.4.2 KitKat Operating System for fast boot-up and multitasking
Extensive vehicle coverage for more than 80 US, Asian and European vehicle makes
MK808BT Support Wireless Diagnostic
Autel MaxiCom MK808BT diagnostic scan tool enables wireless vehicle diagnostics up to 33 feet (10 meters). Connect the MK808BT with the MaxiVCI Mini, MK808BT scanner can communicate with the vehicle's data link connector(DLC) wirelessly for vehicle data and run diagnostic.
Autel MK808BT Support Full Function OBD II Diagnostic
Read/clear codes functions

Live Data Stream

I/M Readiness Status

Freeze Frame Data
O2 Sensor Test
On-Board Monitor Test
Component Test
Vehicle Informations: VIN, CID and CVN ect
Autel MaxiCOM MK808BT Services
Autel MK808BT professional scan tool can perform more than 25 useful service/hot functions for vehicle maintenance. Come with the advanced diagnostic application, the MK808BT diagnostic tablet enables a data link to the electronic control system of the test vehicle for vehicle diagnosis Information such as trouble and event codes and live data from various vehicle control systems.
Autel MK808BT provides you with superior special functions that the most commonly performed includes:Oil Service Reset, EPB, TPMS, BMS, Seats, Odometer, Brake bleed, DPF, Immo keys, Injector, CHG tire size, TEC learn, SAS, Suspension, Throttle, WIN DR ROOF, Lang change, Headlamp, Trans Adaption, Airbag Reset, Cylinder.
Oil Reset: Perform reset for the Engine Oil Life system, which calculates an optimal oil life change interval depending on the vehicle driving conditions and climate. The Oil Life Reminder must be reset each time the oil is changed, so the system can calculate when the next oil change is required.
Electronic Parking Brake (EPB): This function has a multitude of usages to maintain the electronic braking system safely and effectively. The applications include deactivating and activating the brake control system, assisting with brake fluid control, opening and closing brake pads, and setting brakes after disc or pad replacement, 
Battery Management System (BMS): The Battery Management System (BMS) allows the scan tool to evaluate the battery charge state, monitor the close-circuit current, register the battery replacement, and activate the rest state of the vehicle.
Steering Angle Sensor (SAS): Steering Angle Sensor Calibration permanently stores the current steering wheel position as the straight-ahead position in the steering angle sensor EEPROM. Therefore, the front wheels and the steering wheel must be set exactly to the straight-ahead position before calibration. In addition, the vehicle identification number is also read from the instrument cluster and stored permanently in the steering angle sensor 59 EEPROM. On successful completion of calibration, the steering angle sensor fault memory is automatically cleared.
Diesel Particle Filter (DPF): The Diesel Particle Filter (DPF) function manages DPF regeneration, DPF component replacement teach-in and DPF teach-in after replacing the engine control unit.
ABS Bleeding: 

ABS brake bleeding to get a firm brake pad after air exhaustion.

TPMS:

 

Read or clear basic fault tpms codes.
Autel MK808BT Multi-Language: 
English, German, Spanish, Portuguese, Dutch, French, Italian, Korean, Japanese, Russian , Polish, Swedish (Note: The default language is English. If you want to change the language, please send us S/N to change.)
Autel MK808BT Vehicle Coverage:
Chrysler, Dodge, GM, JEEP, FORD, Abarth, Alfa, Audi, Bentley, Sprinter, Buagatti, Citroen, Dacia, Fiat, Ford(EU), Jaguar, Lamborghini, Lancia, LandRover, LT3, Maybach, MINI, Opel, Porsche, Renault, Saab, Seat, Skoda, Smart, Vauxhall, Volvo, VW CV, Toyota, Benz, BMW, VW, Peugeot, Acura, Daewoo, Honda, Hyundai, Infiniti, Isuzu, Kia, Lexus, Mazda, Mitsubishi, Nissan, NissanGTR, Scion, Subaru, Suzuki
Autel MK808BT Auto VIN Technology
MK808BT automatically identifies the vehicle's make, model and year information supports 4 methods for Vehicle Identification 1. Auto VIN Scan 2. Manual VIN Input; 3. Automatic Selection; 4. Manual Selection
Autel MaxiCOM MK808BT Update
The mk808bt tablet automatically searches for available updates for all of the MaxiCOM software when it is connected to the internet. Any updates that are found can be download and installed on the device.
Autel MK808BT Additional Features
MK808BT remote technical support with the help of which Autel technical engineers get access to the Maxicom MK808BT diagnostic scanner remotely, which greatly simplifies the maintenance of diagnostic equipment, shortens the processing time of applications.
SHOP MANAGER

 

– With a MK808BT you can well manage the workshop information with 3 available functions within this application: Vehicle History, Workshop Information, and Customer Manager. Intuitively look up the summarized details.
DATA MANAGER

 

– MK808BT provides the best solution for the data related operations, saves customer and vehicle records, scanner data and technician notes for future review, you can store, print, and review the saved files in Image, PDF,Review Data, Apps Uninstall or Data Logging.
REMOTE DESK

 

– MK808BT Support Remote Technical, you can directly get ad-hoc remote support from Autel via Team Viewer software.
Autel MK808BT Specifications:
Recommended Use
Indoor
Operating System
Android™ 4.4.4, KitKat
Processor
Cortex-A9 processor(1.5GHz)
Memory
32GB
Display
7-inch LCD capacitive touchscreen with 1024x600 resolution
Connectivity
•Mini USB 2.0, USB2.0, Wi-Fi, HDMI Type A, Micro SD card slot(supports up to 32GB)
Sensors
Light sensor for brightness auto changing
Audio Input/Output
Input: N/A,Output: buzzer
Power and Battery
3.7 V/5000 mAh lithium-polymer battery
Charges via 5 VDC power supply
Tested Battery Life
Around 7 hours of continuous use
Battery Charging Input
5V/1.5A
Power Consumption
600 mA(LCD on with default brightness,Wi-Fi on)@3.7 V
Operating Temp.
0 to 55°C(32 to 131°F)
Storage Temp.
-20 to 60°C (-4 to 140°F)
Operating Humidity
5%-95%non-condensing
Dimensions (W x H x D)
237.8 mm (9.4") x 148.6 mm (5.9") x 35.5 mm (1.4")
Net Weight
788 g (2.42 lb.)
Protocols
ISO9141-2, ISO14230-2, ISO15765, K/L-Line, Flashing Code, SAE-J1850 VPW, SAE-J1850PWM, SAE J2610,GM UART, Honda Diag-H Protocol,
ISO11898 (Highspeed, Middlespeed, Lowspeed and Singlewire CAN, fault-tolerant CAN), UART Echo Byte Protocol, TP2.0, TP1.6
Autel MK808BT Package List:
1 x MK808BT Tablet
1 x USB External Power Adapter
1 x USB Cable(for testing)
1 x USB Cable(for charging)
1 x MaxiVCI Mini
1 x Quick Reference Guide
1 x User Manual